Server Rack Installation has never been easier
Customisable to fit any server rack
Compact, Robust, Efficient
R1650 Ramp System
The R1650 is the most complete server rack installation system available. The Patent Pending design revolutionises your work flow, making it more efficient and safer than ever before. The inspiration for the R1650 comes from our experience of working in Data centers, where we witnessed first-hand the issues associated with server rack installation and transportation. We identified a need for an easy to use, robust system that improves safety for both the workers and the valuable hardware while also reducing installation time.
The R1650 is optimised for use with battery powered hand driven tugs. The tugs versatility and compact power coupled with the R1650's specially reinforced and customisable design, combine to make the most efficient server rack installation system. The R1650's unique single track design is a huge improvement over the standard ramp systems which have two separate tracks leaving little margin for error. Bump strips along the side of the R1650 ramp prevent the rack from being driven over the edge making it the safest system available. Unloading server racks and guiding them down the ramp has never been easier.
Tried and tested with super weight servers up to 1600 kg
Customisable to fit any server rack
Standard model suitable for pallets up to 225mm height
Interchangeable transition plate to suit any pallet type
Every part is replaceable meaning it will last a life time
Saves time and increase productivity
Improves safety for workers and equipment
Unique grip surface
Up to 5 degree slope
Optimised for use with battery powered hand driven tug
Manual Accessories available
Patent Pending Design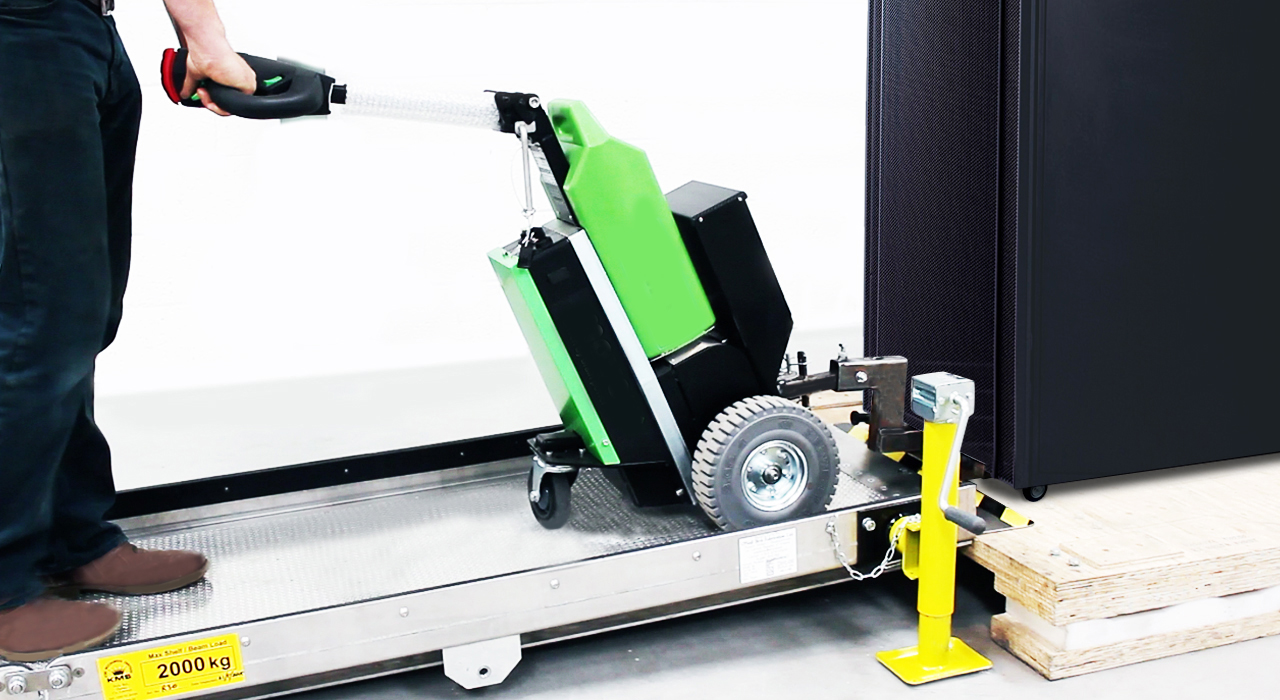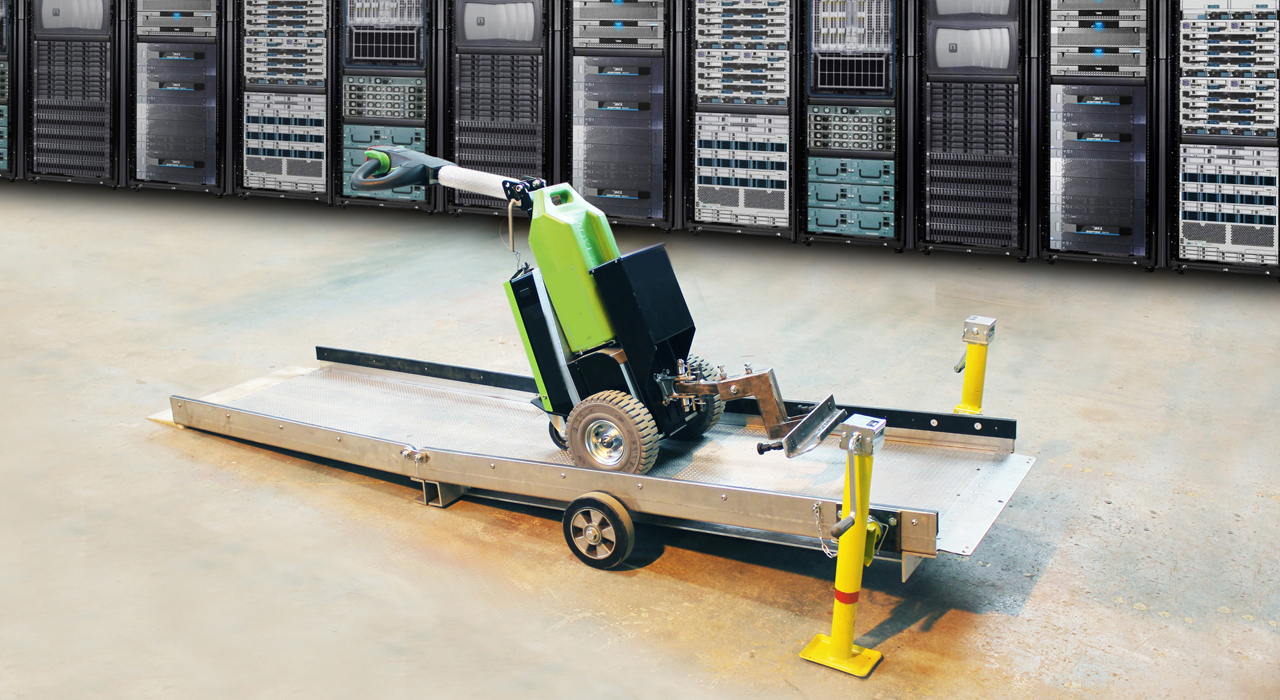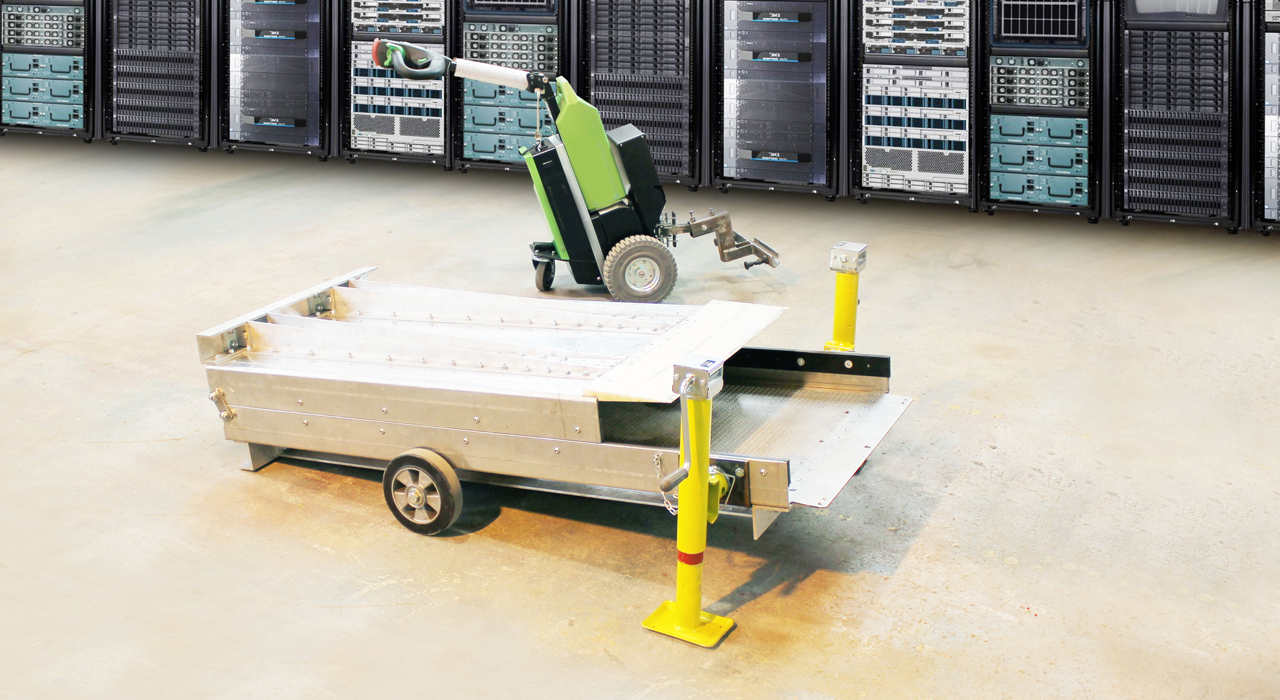 R1650 Manual Steering Attachment
R1650 Manual Steering Attachment is the perfect solution for moving the ramp into position if you are not using a battery powered hand driven tug. The attachment is easy to install and is ideal if the server racks are unloaded manually.
Perfect for manual installation of server racks
360 degree pivot wheel with brake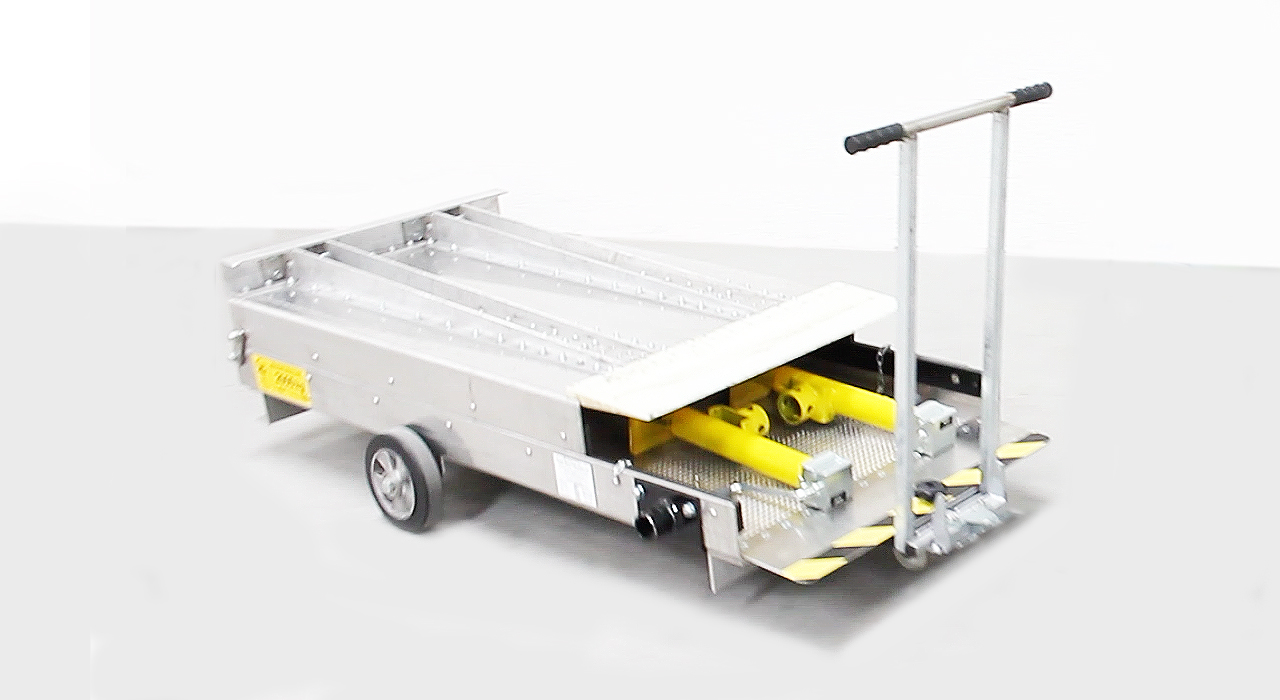 Tilting Hitch Attachment 
The Tilting Hitch Attachment for hand driven tugs is an essential accessory if you are moving equipment from level ground onto an angled ramp. The hitch design tilts to compensate for changes in the terrain by up to +/- 5 degrees. Key parts are made from strengthened steel making it capable of pulling loads over 1800kg
Customisable to interface with any Server Rack and pallet
Allows hand driven tugs to pull 1500kg and brake loads down the R1650 ramp
Compensates for +/- 5 degrees change in terrain
Pulls loads up to 1800kg